---
Alright, I've had a lot of emails come through the past few weeks about these Seddon shirts, people asking if they're too late to order one... the answer is you're not too late! I sold out of the second printing so I'll be be putting another order through at the beginning of May.
I'm limiting the colourway to just black ink on 'heather grey' (as pictured) for this next batch.. please email me jacpoole[at]gmail[dot]com with your orders and for payment details. Toddler sizes are also available and shirts are $25 each.
In other news, I made a pretty big decision this last week that I'm super excited about.. I had been saving up to take a big trip to the US and Canada mid-year, but I changed my mind after some serious thinking on it and decided to use that money to instead stay home and work on my graphic novel full-time. Finally finish the thing. It's something I've wanted to do for a long time, and now that I actually have the means to do it, I'm jumping in feet first.
I've also got a couple other projects that need some serious time invested in them, along with some animation stuff that I started a little while back and haven't been able to spend much time on either, so yeah... that's my plan!


~Jac



---
Here's a shirt I had printed up last week,
just
in time for the Seddon Festival in Melbourne yesterday! I actually drew this design a couple years back while I was living there but never had the money to get any screenprinted until now. I had 3 different colour shirts available in sizes from Youth Small to XL and pretty much sold out within a few hours and had enough positive responses and people asking for reprints that I'm taking orders to get another batch printed!
A few pics (the shirt pictured is a men's small)...

If you'd like to order a shirt, please email me THIS WEEK at jacpoole[at]gmail[dot] com with what size you'd like...
Mens:
Small - 2XL
Ladies:
XS - XL
Kids:
YXS - YL
...or if you want smaller I can also do toddler sizes, just ask me in the email and I'll give you measurements of what's available. I'm offering the shirt in 4 colours: Heather Grey (pictured above), Dark Heather Grey (adult sizes only), White and Army Green so let me know what colour you'd like too.
I'm looking at putting the next order through at the end of this week (8th March) so get your orders in now! Shirts will be available for pick-up in Seddon or I can mail your order out to you.
A few people asked yesterday what street it's based on - it's mostly Austin Street where I used to live, with a little bit of Charles Street and Pilgrim Street thrown in. Big thanks to anyone who picked up a shirt yesterday (even though we were just selling them on the downlow out of a bag on the sidewalk!), to Lee for helping me out all day and also a huge thanks to Pina at A & D Printing in Melbourne for rushing my order through and doing a killer print job!
Got lots of exciting projects on the go at the moment! Things are super busy right now but I'll do my best to keep this place updated with new pics and details on what's up!
P.S. Happy birthday Brigitte!! :D


~Jac



Thursday 3rd January, 2013
---
2013! There's been a pretty big absence here, but just a few weeks after my last post my life took a huuge shift.. at the same time as being put in a half-leg cast for 3 weeks for a broken foot
(not skateboard related!)
, I found out I got a new job at an animation studio in Melbourne. Within two days of the cast came off and finishing up at my old job I joined the ranks at 12 Field Animation as a designer.
I've had a bit of learning curve getting my head around Flash again, so I've been working on something of my own at home in my spare time, trying to tighten the skills and have something to show at the end of it... I'll post some animation of this scene soon - it's still a work in progress. It's based on a story I originally wrote to be a comic, so we'll see where this goes...
This next drawing is of Daryl, my favourite character from AMC's The Walking Dead, really just drawn for the hell of it. Pencils and digital colours. The original pencil artwork is for sale.. jac[AT]gmail[DOT]com for details.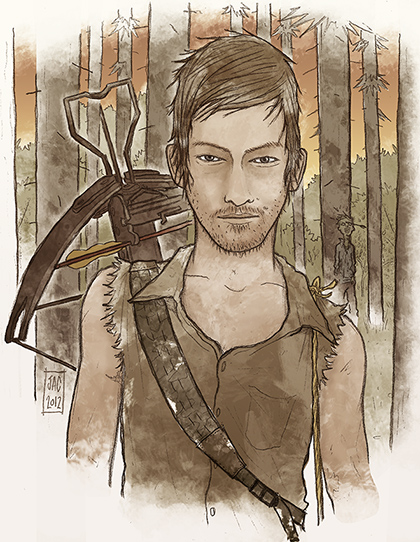 I am still working on Cadaver Dave though! I'm in the middle of holidays at the moment and back into the swing of things. I won't be posting any more full chapters but I'll be showing preview images/progress shots..
There's a few more new things to check out in the gallery that I haven't posted here. Also if you're interested my instagram where I post a lot of this stuff is @jacenthuzed. Happy new year! :)


~Jac



---
Here's something I drew up last night in celebration of the last Friday the 13th of 2012! I worked today so barely had enough time to scan this let alone colour it, but here's the pencils for now...
Edit: Also, I noticed I still get a few hits every month from people searching for the guitar tab of The Divinyls' I Ain't Gonna Eat Out My Heart Anymore, so here's the text file again.


~Jac
---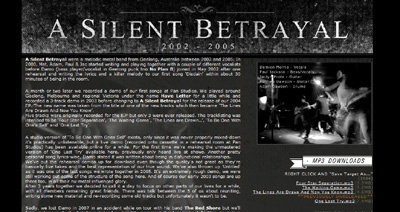 So this isn't really 'art' related, but in my last post I mentioned something about a
website
I was making for my old band, A Silent Betrayal. I finished it off a few weeks ago but have only now got around to sharing the link here (click image to visit site). While talking to a friend a little while back I realised it's now
10 years
since we became the 5-piece we were, which seems totally crazy to me now, but I took it as a good opportunity to make something in memory of it.
While I was going through photos and old recordings I came across a song 'One Last Try' that I'd almost completely forgotten we'd written and asked PJ if he remembered it... turns out I'd also forgotten we did a studio recording of it in 2004 but never released it for whatever reason. I do remember it was always a blast to play live, one of my favourite songs of ours, but I think at the time we thought the recording was a bit too long and needed editing or something, and so we shelved it. But we decided to put it up now for people to check out.
We're all really proud of what we did with this band, the music we made... it was such a huge part of our lives and I can say without a doubt I had some of the best times of my life in this band, playing music with these guys. And with Damo gone now we wanted to share this part of the legacy he left behind. He really was an exceptionally talented musician, anyone who played alongside him or even saw him do his thing on stage could see that, but more than that he was also one of the most incredibly genuine people I've ever known... humble, respectful, passionate, kind.. a true gentleman. And not a day goes by I don't think of him. We miss you bro. xo


~Jac



---
'Bout time for an update! So lately I've been using my sister's car while she's away in the UK which has been pretty handy (much easier than skating home with a backpack and an enviro-bag full of heavy groceries!) and for the first few weeks of driving it around, the only CD's I really listened to was The Famine's
'The Architects Of Guilt'
and a Snoop Dogg mix cd I'd made. For some reason after that I just felt the need to draw Snoop and this pic was my favourite of the bunch...
Below is couple of things out of my sketchbook and an uncoloured pencil illustration of the Geelong West Town Hall. I was commissioned to draw a 'map' of sorts for the relaunch of
On Pako
magazine, a magazine dedicated to Geelong's Pakington Street, so I drew all the main landmarks that I could think of. I grew up close to 'Pako' and since moving back to Geelong I still skate along it most days now too, so it was all pretty familiar to me anyway.
The finished product; page 59. Out now (for free!) around Geelong & the surfcoast.
I got myself an android smartphone recently so I'm on the instagram bandwagon, making all my average photos look great! I mostly take pics of day-to-day type stuff, drawings, skateboards etc. Here's some pics I've taken over the past few weeks... follow me
@jacenthuzed
.

1. My apartment building 2. View from the bathroom window 3. Japanese Maple in the backyard

1. Morning commute 2. Art books/graphic novels/inspiration bookshelf 3. Japanese Maple
A few weeks ago when I visited my folks in Creswick my mum took some friends and I through Le Gerche's walking trail just a few minutes from their house. If they'd have lived there while I growing up I can pretty much guarantee I would've spent the majority of my childhood in these woods. Incredible place, especially in Autumn...
1. Creswick in Autumn 2. Pine plantations 3. My mum!

1. Dork (me) 2. Little man Jude, what a champ. 3. How good are trees?!
Oh, the 10-year anniversary website I'm making for my old band
A Silent Betrayal
should be up shortly. I had it ready to launch a couple weeks ago but realised I'd been previewing the page in
Google Chrome
all along, so when I double checked the code in Internet Explorer it was all out of whack and I haven't gotten around to tweaking it just yet. Damn you Internet Explorer, damn you!! We have an unreleased studio track that we're putting up for download which only people who came to live shows might remember, but I'll talk more about all this soon.
~Jac



Saturday 17th March, 2012
---
Here's a shirt I drew up for the guys at the new Melbourne-based clothing label,
Horror Apparel
. They've just released their first lot of shirts, with other designs from the awesome Dave Undead and Mitch13... Available now from
here
.
I was asked to do a zombie design and after sketching a few things out, decided on this window concept. I really didn't want to go all blood-and-guts or zombies all up-in-yo-face and thought this was a little more subtle, maybe a little more creepy. Mike hooked me up yesterday with a package in the mail so I can attest they're great quality tees, screen-printed beautifully on 100% cotton. Thanks dudes!
I've been working on
Cadaver Dave
pretty solidly lately. Feels really good to be back at this thing. It's pretty weird looking at the old pages for reference and seeing the differences in how I drew 5 years ago to how I draw now. There's definitely a few panels I'd like to redraw, but moving forward instead...
Also sussed this online the other day.. Robot Army Media's new showreel. I haven't seen much footage of it myself, but there's a few seconds of the kids' TV show Ryan and I have been collaborating on in there. More on that as it progresses. Check it out, Ryan and co. have been doing some rad stuff lately!
~Jac



Thursday 16th February, 2012
---
Wow, I've been really slack on the updates around here! I knew it was a while, but I didn't realise it was almost
3 months
! I have sort of been hibernating lately, reading a lot, sketching, skating, just living life. I wish I had a bit more to post now though... I've got a few things in the works but I'm currently in one of those phases where I work on everything at the same time and don't seem to get anything finished. D:
Anyway, here's a sneak peek of something zombie-themed that I've been working on. I'll post the full details as soon as I can.
A couple of sketches and the guitar dude is for an artists' collaboration book.. he's one of 50 images where I've drawn a different head on the body and then mucked around with some markers. I'll get some photos/scans of the rest and talk a bit more about this one soon too. (If you follow my
tumblr
or
facebook
you've probably already seen these!)
~Jac



Tuesday 22nd November, 2011
---
It's about to click over to Wednesday and I should probably be in bed already since my brain shut down a couple hours ago, but here's a few slightly different versions of a logo I've been playing with...
Think I like this one the best.

The original sketch I worked from...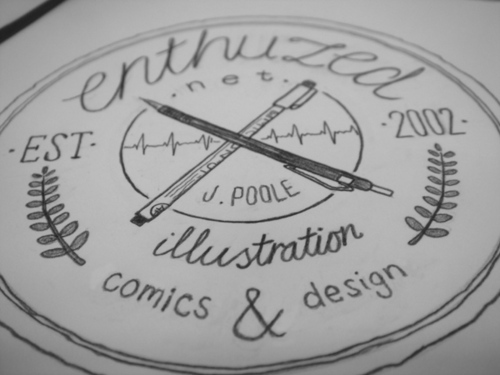 ~Jac



Monday 14th November, 2011
---
Here's the artwork I did for
Admit One
's 'Picture This' E.P. I haven't got a copy of the cd yet, but I'll snap some pictures of it when it arrives.
It was also pointed out to me that
Cadaver Dave's website
navigation isn't working properly in Internet Explorer (the 'forward' button disappears) so my apologies to anyone who's tried to view it in that browser and just thought 'wtf?'. I'll fix that soon, in the mean time please use Firefox to suss it!
And damn you Internet Explorer!!
Update: I just edited the code at www.cadaverdave.com so clicking the page on screen advances to the next page of the story. Should work in IE now ;)
~Jac



Sunday 30th October, 2011
---
Hello! So I'm a day early, but I have a Halloween treat for everyone! I've just put the second chapter to my graphic novel
Cadaver Dave
online - click the image below to go to
www.cadaverdave.com
to read. This is all I'll be putting online for now, hopefully you'll get to read the rest of it when it's eventually printed! ;D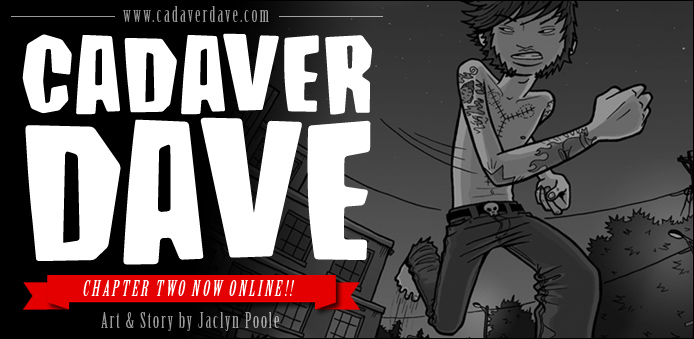 I'll keep working on this comic in-between doing other work, so keep an eye out here (or facebook/tumblr) for updates and little snippets of art. I think I forgot for a while there how much I enjoy making comics until I got back into working on this.. and it's always encouraging when you feel like the latest thing you drew, inked or coloured is better than what you've done before. Thanks also for the great feedback I've been getting! It's truly awesome to know other people are as psyched to see this thing done as I am!
Here's a drawing of one side of my lounge room, for no real reason. I took a week off work earlier this month to get some of my own work done and sketched this out on some new paper I'd just bought.
A few days into my work break though, I had a break of another kind... I came off off my skateboard during a slide stop and in a split-second decision (or maybe it was just stupid, dumb luck) I attempted to save my wrists/arms/face/glasses and took most of the fall on my ribs, breaking some as a result.
The first couple weeks after was pretty painful to breath, especially having asthma on top of it (yeah, I'm a massive nerd), but with the help of Nurofen 3 times a day, I'm not doing too bad now. Really just grateful I didn't break anything that would stop me from drawing!
It's funny, lots of people lately have told me how dangerous skating is, but only a couple weeks earlier I worked out that I was skating anywhere from 4.4km to 10km a day, four or five days out of the week for the past 10 months and this is my first fall... so those odds aren't so bad if you ask me. And it's still 10x safer than cycling on the road with cars!
~Jac



Saturday 8th October, 2011
---
Got a big box of these shirts sitting in our apartment, completely random sizes on black and white Gildans (ranging from toddler sizes to XXXL), so me and my cousin PJ, who played bass in
Farewell Forever
, are going to go through them pretty soon and work up a list of exactly what's in stock and we'll put them up for sale in my webstore. They'll be SUPER cheap, but sizes are very limited - as in we might only have one of your size - so don't sleep once they're up. I think I got the second last 'YL' size, pictured here...
The band isn't around any more unfortunately, and they only released a couple of songs but they still mean a lot to me. This was a true tribute band to the memory of Damien Morris, fronted by Damo's brother Luke and with other founding members of The Red Shore, A Silent Betrayal and No Plan B/Armageddon Sky making up the rest of the line-up. D.D.D.M.C.
Here's a link to my new Facebook 'fan' page that I mentioned in the last post, hit me up with a 'Like' if you're on there and tell your friends! I'm not too keen on fb much these days so I'm no longer using my personal profile but I am keeping a presence with this page instead...
Jaclyn Poole | Illustration, Comics & Design
|
Promote Your Page Too
By the way, a few people are adding my new profile that's linked to it, but it's purely there for admin reasons (ie. facebook won't let you manage a 'page' without having a profile as well) but there's nothing on there anyway so don't bother adding me on that one. Peace!
~Jac



Saturday 1st October, 2011
---
So today, while the rest of the town I live in was watching some men chase a ball around a big oval for a couple hours, I was happily oblivious, listening to tunes and busy creating
WWW.CADAVERDAVE.COM
!!! I've only put the first chapter up for now - I originally had 18 pages up - but I decided to hold off on posting the second one until I can put the
complete
chapter up and I realised I still need to fix a few things on the last couple pages. They'll be up alongside chapter one in the next couple of weeks, stay tuned!
I also just created a new Facebook 'fan page' for my work... I'll throw a badge up here soon for it, but for now just search for 'Jaclyn Poole | Illustration, Comics & Design', click the 'Like' button and show me some love! I'll be deleting my personal profile for good pretty soon (it's been deactivated for weeks) and just using that one from now on and posting a lot more art-related stuff.
Reeeeally hoping to set up my new studio this month too with some time off from my day job! :D
Time for a drink.
~Jac



Monday 26th September, 2011
---
CD cover for
Nathan Seeckts
' Deviation Road E.P. This was a nice little project, Nath gave me a couple of reference pics but pretty much said 'do your thing' - thanks Nath! Deviation Road is that road you can see winding down the hills in the background, from Geelong down to Fyansford. I grew up about a 7 minute walk away from the top of the very back hill that overlooks this whole valley so although I used a few google map images as reference for this angle, a fair chunk of it is just how my mind remembers it.
Here's the rough drafts of the front and back covers. I'll post the rest of the artwork when the cd's out.
I also found these old logo designs from my student days and thought I'd post 'em up. I think it was an Adobe Illustrator assignment where we had to redesign a logo for a company we thought needed rebranding.
And coming soon... COMICS!!!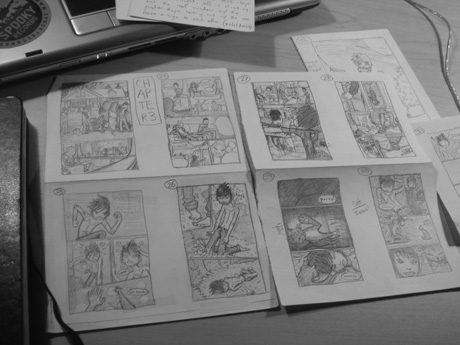 I'll be putting the first two chapters of Cadaver Dave online in a little while. I've only shown a few panels or random pages up until now but figured I might as well show what I've got since most of it was drawn like 5 years ago now anyway. I came across my thumbnails of the third chapter in the back of my sketchbook (I used to draw them on my train commute), read through them and got all siked on working on comics again! More on this soon.
~Jac



Sunday 18th September, 2011
---
I finally got around to re-uploading my previous site with the past 2 years worth of blog posts... check it out
here
. Hopefully there's not too many broken links. I haven't had a lot to post here (despite feeling like I'm working constantly) but I'll be doing a solid update with new art soon, and you can always check out my
Tumblr
which is kept pretty up to date.
Lately I've been going through some old backup discs trying to find something and I kept coming across old website designs and I realised I've been doing this for a while now... it's been 10 years since I started learning how to make websites, that's insane!
I originally started out with a geocities site in 2001, then a friend hosted me on an artist site called shoboken for a while until I launched enthuzed.net in 2002. Anyway, I managed to get a few screengrabs of some of the old designs and thought I'd throw them up here. There's quite a lot of designs missing, some of my backup discs won't even read so I guess they're gone forever. Some of these early ones are pretty funny, I'd saved a couple of screenshots back when I created them using Windows95 or something - you can see Kazaa running in the taskbar of one of them, haha.
10 YEARS OF BLOGGING...
1.
2.
3.

4.
5.
6.

7.
8.
9.
1. 2002. jac.shoboken.net. earliest design I could find.
2. 2002. original 'enthuzed' website. made using Flash, had lots of cool animations as part of the design.
3. 2002. don't think this design lasted too long. No Plan B link ;)
4. 2003. got bored of this one real quick too.
5. 2004. gasmask design.
6. 2005. i had another, better, red version of this design which I can't find.
7. 2006. lowrider design v.1. i dug this site, it was just a nightmare to update.
8. 2007. lowrider design v.2.
9. 2009. streetscape design. keeping it simple. that banner drawing is the 2nd panel of my Cadaver Dave comic.
~Jac



---
I started a tumblr today! Will try to keep it all original content. Mass uploading commencing...
~Jac



---
My lunch break today...
#RobotArmyMedia
~Jac



---
Apologies for the lack of updates around here! A lot has been going on in the past 2 months and I haven't had much time for updating this thing. I've just moved house so it's been a whirlwind of searching for a new place to live, trying to keep on top of illustration work, slugging it out at my day job, packing/moving/unpacking etc.
But I'm pretty much all settled now (broke and living on bachelorette chow and beer, but settled) living in an apartment building that I've wanted to live in since I was a kid which is kind of funny - and completely awesome. Only now I'm getting distracted by this view from my balcony every time I turn around from my work area...
Anyway, a lot of what I'm working on can't really be shown yet but here's a sneak peek at a few things in the works. Click for slightly bigger version..
From the same project..
And this next one's for a big project which I'm really excited to be a part of and can't wait to talk about more on here...
I'm moving into a shared studio space in the next month or so with a good friend so I'm hoping to get a lot more work done there.. less distractions being away from home and whatnot. I'm dying to get back to drawing comics after these for-hire jobs are through... yes Cadaver Dave is still sitting there waiting to be picked up again. :o
I also want to say a big HAPPY BIRTHDAY to my beautiful goddaughter, Harper, who turns 3 years old TODAY! Much love kiddo! ♥ ♥ ♥
~Jac



---
I was feeling inspired last night and decided it was time for a site redesign! The old one was getting a bit too much to handle, so I stripped it way back and I'm keeping things as simple as possible this time around. So fresh and so clean.
Here's something I drew a little while back for Friedcat Comix issue #1. I'm a massive geek for The Lost Boys, it's one of my regular background movies while I work, and I always wanted to do some kind of fanart for it. Everyone loves a vampire with a mullet...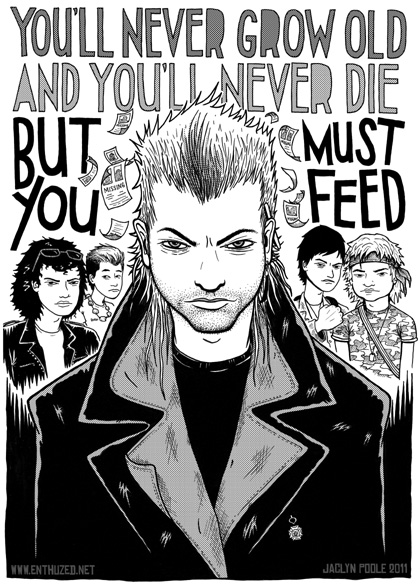 I'm selling the original ink drawing of this - check out the
store
if you're interested!
I restocked 'Lost Cause' at Sticky Books in Melbourne cbd on Saturday - special price of $6!
~Jac